Funder: Women and Gender Equality, Government of Canada

ABOUT THE PROJECT:
This 30-month project will support a feminist response and recovery from the current impacts of COVID-19, through systemic change. Calgary Vietnamese Women's Association will achieve this by conducting and documenting a formal needs assessment informed by Vietnamese women in Calgary; researching existing community service supports and advocacy literature for this racialized population group; writing white letters and calls-to-action papers to community organizations and government representatives to address identified service support gaps; meeting with service providers to help design inclusive programs and services; and disseminating project findings among stakeholders and influential decision makers to advocate for culturally relevant program and service planning and funding policy practices.
At the end of the project, the organization will have contributed to addressing systemic barriers by advancing inclusive policies and practices, encouraging more equitable and effective sharing of resources, and increasing networks and collaboration to accelerate systemic change. This project will engage research professionals, community service providers, ethnocultural sector experts, political leaders, and women with lived experience in addressing the equality challenges experienced by Vietnamese women in Calgary, particularly the barriers to their economic security and prosperity. In collaboration with Action Dignity, Calgary Vietnamese Women's Association will seek to advance key recommendations for practices and programs toward a recovery from the impacts of COVID-19. The impact will be documented through an ongoing evaluation.
PARTNER:
W21C is a research and innovation initiative based at the University of Calgary's O'Brien Institute for
Public Health and the Calgary zone of Alberta Health Services. Our collaborative space and diverse
team enable health researchers to bring new ideas, prototypes, or healthcare innovations into the
healthcare environment. Our interdisciplinary team is ideally situated to support CAVWA
in this assessment.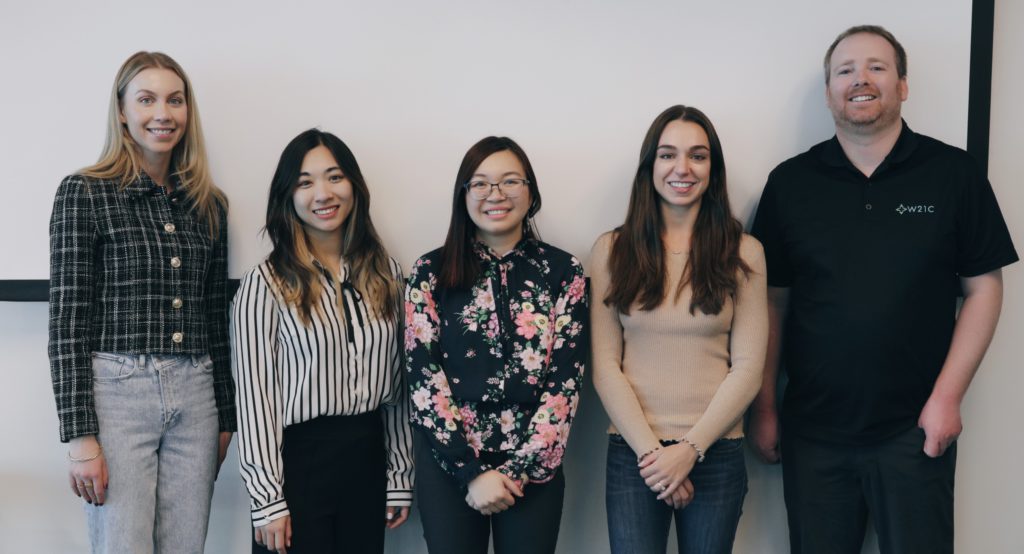 PHASE 1: RESEARCH
The project had two phases for collecting the data. The first phase we approached was by doing the surveys. We conducted 110 surveys with a great team, including international students and newcomers.
After getting the survey result from the community, we tried to reach the leaders in our community. We chose the leaders to do the focus group because they have more knowledge about the community and a deep understanding of its problems. Especially the project is about feminist recovery and response after the Covid 19, so people from health care and school could have more experience and observation about that.
PHASE 2: FINDING
Language is the community's main problem; many immigrants are seniors and do not speak English fluently. Some of them can speak English, but the health system may be complex for the general population; this is distinctly more difficult for Vietnamese women. If Vietnamese women who do speak English struggle to grasp the particulars of medical vocabulary and terminology, then women without this ability are especially vulnerable.
While traditional gender roles, wherein the woman is seen to be selfless and willingly forgoes her needs for the betterment of the family, is not unique to Vietnamese culture, it is, perhaps, an intensified expectation for the women in our study. Vietnamese women sacrifice themselves for others, and sometimes, they do not care about themself. Besides, Vietnamese women are often hesitant to render visible their mental health concerns, which means that these distresses are prevalent but not openly shared, both within their community and more broadly.
DOMESTIC VIOLENCE AND THE VIETNAMESE COMMUNITY
The women in our study highlighted the existence of domestic violence within the Vietnamese community but a hesitancy to speak about its existence. It makes them feel insecure about sharing their needs and finding help for their health and mental health. This is further complicated by vulnerabilities tied to immigration and language barriers within the Vietnamese community.
TIME – INTENSIVE CARE WORK TIME
Because of the language barriers, many Vietnamese women need help from the community. They need someone to help them with transportation, interpretation, and childcare. The community has volunteered but needs full-time service, and volunteers can not help. Therefore, many Vietnamese women have difficulty finding a doctor and caring for their health.
RECOMMENDATION
Strengthen Community-Based Organizations
A primary strategy to rectify gaps in service delivery identified by our study participants was to bolster the strength of community-based organizations and assist them – through public funding and further resources – to realize their aspirations within the Vietnamese community. Vietnamese women seek help from a community with similar cultures, ethics, and language, so community organization such as Cavwa is essential. For example, about the above problem of domestic violence, one participant shared what CAVWA could accomplish with a small amount of funding.
Provision of Culturally Sensitive Health Services
Based on the barriers, Calgary should have more health services that can understand Vietnamese cultures and ethics. It would help the Vietnamese share more of their needs and problems.
FINAL REPORT
If you want to have more information about the project, please download the final report below for more detail.